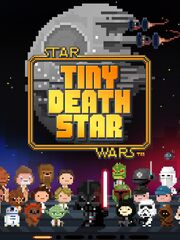 "Episode VIII–bit Tiny Death Star: The Emperor is building a Death Star level by level, and he needs your help...."
~Tiny Death Star trailer description.
Tiny Death Star is an app co-developed by Nimble Bit and Lucas Films/Disney. It is the first game produced together by Lucas Films and Disney and Disney purchased Lucas Films. It aired on October 11th in New Zealand and Australia on Android and in the United States and App Store on November 8th.
Tiny Death Star is a virtual buisness game in which the player must earn money by moving Bitizens into levels and giving them jobs on commercial levels. Along the way, Rebels will spy on you, and the Emperor is building secret Imperial Levels to further his plans of crushing the Rebellion.
Ad blocker interference detected!
Wikia is a free-to-use site that makes money from advertising. We have a modified experience for viewers using ad blockers

Wikia is not accessible if you've made further modifications. Remove the custom ad blocker rule(s) and the page will load as expected.