Overbridge is an Imperial level in Star Wars: Tiny Death Star. It is a limited edition level, obtained from the Imperial Propaganda Decoration Event. This level is now locked and not available for construction.
Resources
Edit
Any bitizen, including those who did not request the particular floor, can be delivered to this level. If a resource is being assembled, doing so will cut one minute from the completion time.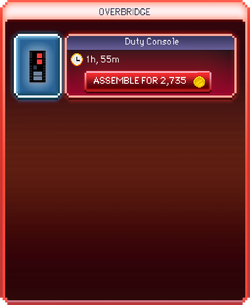 The
Imperial Assignment
for this level seems to be bugged:
The second item, the Holo Display, is not available for crafting (see image, right), yet is obtainable from Salvage Missions.
The build time and cost for the Duty Console should be for the Holo Display.
On Android, the icons for the two items are the same, a black rectangle with red squares and grey rectangles (see image, right).
On Windows RT, the Duty Console crafting task is labelled as "Not Used", but does display the correct icon.
Level Pictures
Level Completion:

This level does not have any Scenes.
The Imperial Propaganda Decoration Event ran for 9 days, starting on 21 March 2014. The Overbridge level was the third reward, achieved by decorating 60 levels of the Death Star.
References
Edit
Ad blocker interference detected!
Wikia is a free-to-use site that makes money from advertising. We have a modified experience for viewers using ad blockers

Wikia is not accessible if you've made further modifications. Remove the custom ad blocker rule(s) and the page will load as expected.